Hello,
I started to test (and get to know) Audirvana yesterday. Hence many questions open, resulting from lots of features/opportunities

.
I basically like to find out whether my data transmission chain will be able to
a) ensure the playback of lossless audio files stored on my computer (without "adding" losses due shortcomings with the setup)
and
b) (less important at the moment) stream from a dedicated HighRes Streaming Service as Qobuz or TIDAL in a way, that again my setup does not "destroy" the transmission of the HighRes data to the DAC.
The latter one is the one of my AV Receiver Denon AVR-4520 (that apparently does not support DSD according to the information given in the device settings). The devices (i.e. the AVR as well as my Mac) are LAN wired via DSL router.
Now, in Audirvana, the AVR appears twice in the Audio Output Selection List: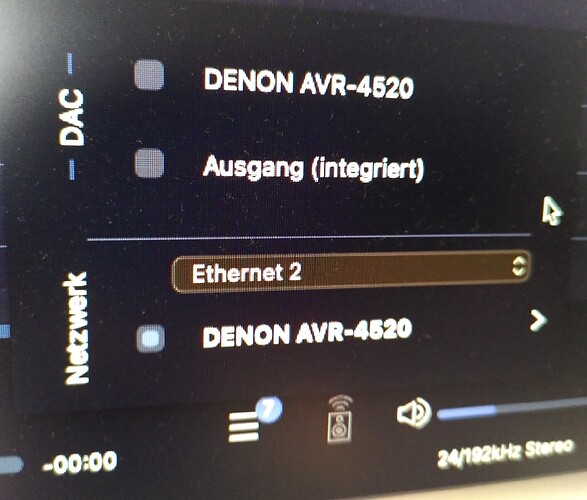 My question at the moment is: Is my assumption correct, that the upper entry (in the "DAC section") leads to connection via AirPlay and the lower one ("Network section" to direct data transmission via the home network? If so, I feel that the latter one should be preferable? At least more options (as for supported PCM rates) are offered here.
Anyway, the DAC to be used in both cases will probably be the one of the AVR? I find it somewhat misleading that the upper part is labelled "DAC" as it is always about the DAC.
I would be grateful for any clarification.