Hi,
Testing Audirvana currently and I am very happy with the sound improvements over my current application so I think I will buy it.
I have found one weired behaviour/bug though?
I have several "Various Artist" albums all rip:ed to Flac where "Album Artist" field seem to be empty and Compilation is set to Yes. Audirvana sorts these albums first Albums view so I tried to update Album Artist to "Various Artists" so it would sort under "Various Artists" instead.
Unafortunately Audirvana doesn't seem to detect this change and update Albums View? Is this a bug? Do I need to remove the database and create a new one?
As you can se below several Various Artist albums are sorted first. I have updated "The Minimal Wave Tapes Volume One" has an update Album Artist tag with "Various Artists".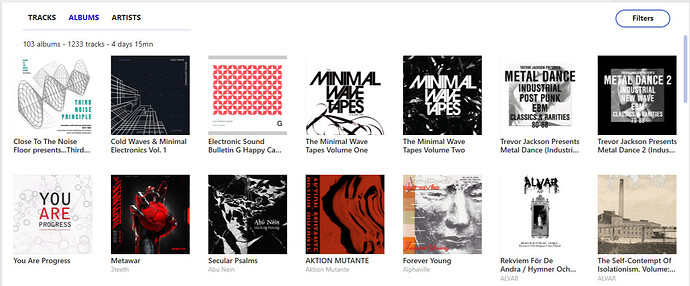 Albums already with an Album Artist tag set to "Various Artists" is sorted correctly


Tags set for "The Minimal Wave Tapes Volume One", still sorts wrong


Tag for "The Minimal Wave Tapes Volume Two" have not been updated and is sorting wrong ofc.