3.5 allows 2 pc devices per account. Is it the same for studio?
From the FAQ section on the Audirvana websitesite:
You can install Audirvāna on multiple devices but you can only use one at a time. If you want to switch from one device to the other simply go to your Audirvāna account page and disconnect the previous device you were using or simplu log out in your account settings before moving to the other computer.
This is also a clumsy method , you are directed to a web page , have to log in , De-activate the PC that is active, go back to AS , log in again just to get going
Surely it must be simpler than this or did I miss the simple method ?
If you click on My Account in your Audirvana Studio. Then you have the option to disconnect the current computer. Audirvana will exit, and you can log in on a different computer.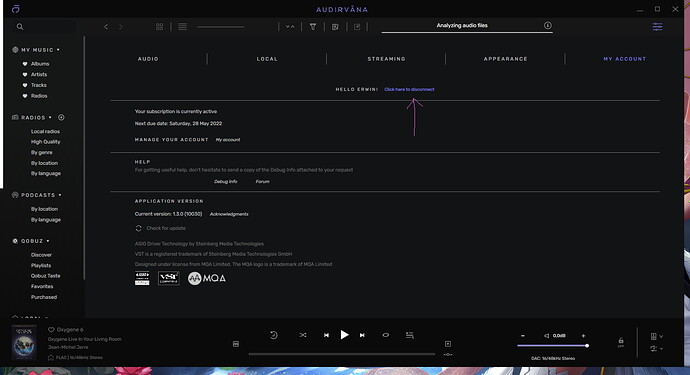 Atrociously cumbersome approach - they should simply allow the software to be installed in as many devices as wished, with the condition that playback may only take place in one device at a time - so for instance, as long as you "stop" playing on your laptop, you could immediately start playing on your desktop - simple enough.
P.S.: Or even better - allow for simultaneous playback as long as it's happening in the same household (something you can check via IP number or similar geo-tagged info).
Yes if you are sat in front of the current logged in PC you can disconnect easily , I wasn't I was testing it on my laptop several rooms away. The several logins being the result. It depends which computer you are trying to connect. Connecting from the "new" unlogged in PC is a chore that it shouldn't be.
Audirvana is clearly designed as a "run on your PC" application rather than "run from your armchair" application. Witness the current absence of a working iOS / Android Remote app for AS
After many years of computer bashing I now like to cut down my "screen time" in favour of "armchair time".

The Roon approach is one logged in Core PC at a time per license BUT as many End Points as you like
Compared to one logged on Server PC and ONE "play to device" , i.e. no chance of multiroom multi device.
Again it smacks of sitting at the Server PC or having the server PC as a permanent installation in your hi fi system
I quite agree with you.
A simpler system, considering that AS is "calling home" at launch, would be for "home" to notice the switch to another system, and lock the use on other registered systems.
Of course, for offline use, that could be a problem, but it is already so in the present state which requests a brief connection time to accesss the user account.
It would go swimmingly on connected systems though