Hello,
I am currently testing Audirvana Origin and I was hoping to see a significant improvement in performance when handling large libraries. My library contains about 336K tracks and if I leave checked the option to rescan folders for changes at each start, the syncing for all folders takes about 4 hours which is a long time to wait for all new music to become visible. I have split my library into different folders by letter and added each folder to Audirvana separately, but the syncing is happening sequentially, one folder at the time.
In comparison, the same resync used to take about 5 minutes in Roon on the same computer and was happening in parallel which sped it up considerably.
Is there any way to configure parallel resync for all folders in Audirvana also or somehow speed up the startup rescan and bring it down to a few minutes… having to wait for hour for all new music to become visible in Audirvana is a real blocking point for me and disabling the startup rescan is not an option either because changes to the library will not get detected automatically anymore.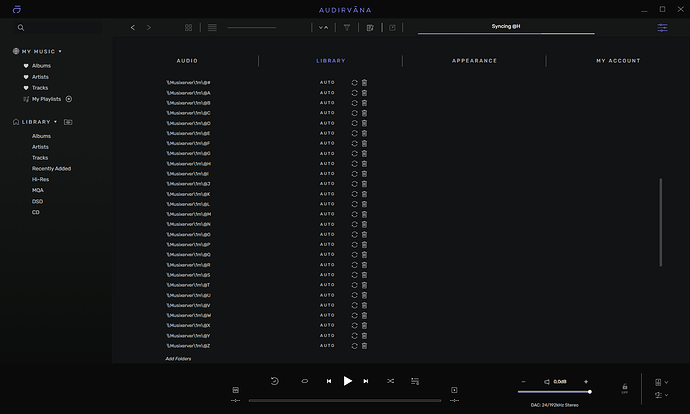 Thanks!