Hi @Antoine and other forum members.
Maybe it is only me, but since update 1.10.2 all Qobuz screens are blank (except for the playlists).
An example below: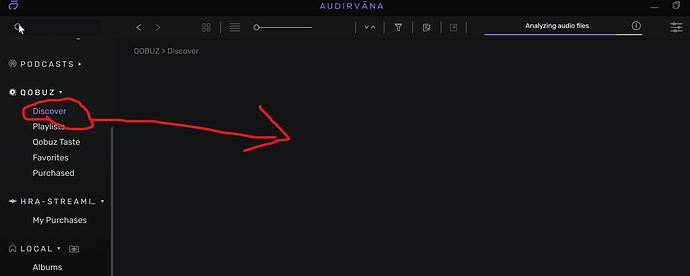 I already tried to disconnect from Qobuz and connecting again in AS, but no luck.
Anybody else has this issue too?
I am running AS on Windows 11 on a NUC i5.
Debug info:
Audirvana Studio 1.10.2 (11002)
Windows 11 (22000) with 16GB physical RAM
Connected account of : **************
SIGNAL PROCESSING:
Polarity Inversion:
	Globally: OFF
	Per track: ON
Effects plugins NOT ACTIVE

UPSAMPLING:
r8brain to DSD256 with filter type B 7th order
r8brain filter parameters
Bandwidth = 99.5%
Stop band attenuation 218dB
Phase linear
AUDIO VOLUME:
Max allowed volume: 100
Replay Gain: None
SW volume control: OFF
LIBRARY SETTINGS:
Sync list: 1 folders
AUTO: D:
Library database path: C:\AudirvanaDB\Studio\AudirvanaDatabase.sqlite
Remote Control server:
Listening on ************
ACTIVE STREAMING SERVICES
Qobuz: Connected as Qobuz Studio
HRA-Streaming: Connected as VirtualVault
=================== AUDIO DEVICE ========================
Max. memory for audio buffers: 4076MB
Local Audio Engine: WASAPI
Preferred device:
Luidsprekers (TOPPING USB DAC)
Model UID:MMDEVAPI\AudioEndpoints
UID:\?\SWD#MMDEVAPI#{0.0.0.00000000}.{fe3aab63-7bc8-41a6-b0e6-824ccdccc884}#{e6327cad-dcec-4949-ae8a-991e976a79d2}
Currently playing in Integer Mode:
Device: 2ch 24bits Integer, 8 bytes per frame 705.6kHz
Active Sample Rate: 705.6kHz
Bridge settings:
Sample rate limitation: none
Sample rate switching latency: 1s
Limit bitdepth to 24bit: OFF
Mute during sample rate change: ON
Selected device:
Local audio device
Luidsprekers (TOPPING USB DAC)
Manufacturer: Microsoft
Model Name: Luidsprekers (TOPPING USB DAC)
Model UID: MMDEVAPI\AudioEndpoints
UID: \?\SWD#MMDEVAPI#{0.0.0.00000000}.{fe3aab63-7bc8-41a6-b0e6-824ccdccc884}#{e6327cad-dcec-4949-ae8a-991e976a79d2}
10 available sample rates up to 768000Hz
44100
48000
88200
96000
176400
192000
352800
384000
705600
768000
Volume Control
Physical: Yes
Virtual: No
MQA capability
Auto-detect MQA devices: Yes
Not a MQA device, user set to not MQA
DSD capability: DSD via PCM 1.1
Device audio channels
Preferred stereo channels L:0 R:1
Channel bitmap: Ox3, layout:
Channel 0 mapped to 0
Channel 1 mapped to 1
Audio channels in use
Number of channels: 2
Use as stereo device only: No
Simple stereo device: No
1 output streams:
Number of active channels: 2, in 1 stream(s)
Channel #0 :Stream 0 channel 0
Channel #1 :Stream 0 channel 1
2 ch Integer PCM 16bit little endian 44.1kHz
2 ch Integer PCM 24bit little endian aligned high in 32bit chunk 44.1kHz
2 ch Integer PCM 32bit little endian 44.1kHz
2 ch Integer PCM 16bit little endian 48kHz
2 ch Integer PCM 24bit little endian aligned high in 32bit chunk 48kHz
2 ch Integer PCM 32bit little endian 48kHz
2 ch Integer PCM 16bit little endian 88.2kHz
2 ch Integer PCM 24bit little endian aligned high in 32bit chunk 88.2kHz
2 ch Integer PCM 32bit little endian 88.2kHz
2 ch Integer PCM 16bit little endian 96kHz
2 ch Integer PCM 24bit little endian aligned high in 32bit chunk 96kHz
2 ch Integer PCM 32bit little endian 96kHz
2 ch Integer PCM 16bit little endian 176.4kHz
2 ch Integer PCM 24bit little endian aligned high in 32bit chunk 176.4kHz
2 ch Integer PCM 32bit little endian 176.4kHz
2 ch Integer PCM 16bit little endian 192kHz
2 ch Integer PCM 24bit little endian aligned high in 32bit chunk 192kHz
2 ch Integer PCM 32bit little endian 192kHz
2 ch Integer PCM 16bit little endian 352.8kHz
2 ch Integer PCM 24bit little endian aligned high in 32bit chunk 352.8kHz
2 ch Integer PCM 32bit little endian 352.8kHz
2 ch Integer PCM 16bit little endian 384kHz
2 ch Integer PCM 24bit little endian aligned high in 32bit chunk 384kHz
2 ch Integer PCM 32bit little endian 384kHz
2 ch Integer PCM 16bit little endian 705.6kHz
2 ch Integer PCM 24bit little endian aligned high in 32bit chunk 705.6kHz
2 ch Integer PCM 32bit little endian 705.6kHz
2 ch Integer PCM 16bit little endian 768kHz
2 ch Integer PCM 24bit little endian aligned high in 32bit chunk 768kHz
2 ch Integer PCM 32bit little endian 768kHz
Local devices found : 1
Device #0: Luidsprekers (TOPPING USB DAC) Manufacturer: Microsoft Model UID: MMDEVAPI\AudioEndpoints UID: \?\SWD#MMDEVAPI#{0.0.0.00000000}.{fe3aab63-7bc8-41a6-b0e6-824ccdccc884}#{e6327cad-dcec-4949-ae8a-991e976a79d2} Model Name: Luidsprekers (TOPPING USB DAC)
UPnP devices found : 1
Device #0JPLAY FEMTO UID: uuid:JPLAY192.168.178.192-MediaRenderer Location: http://192.168.178.192:48167/JPLAY192.168.178.192-MediaRenderer/Upnp/device.xml