Hi everybody, novice question time! What exactly does this option do under Local Maintenance. Thanks for any help.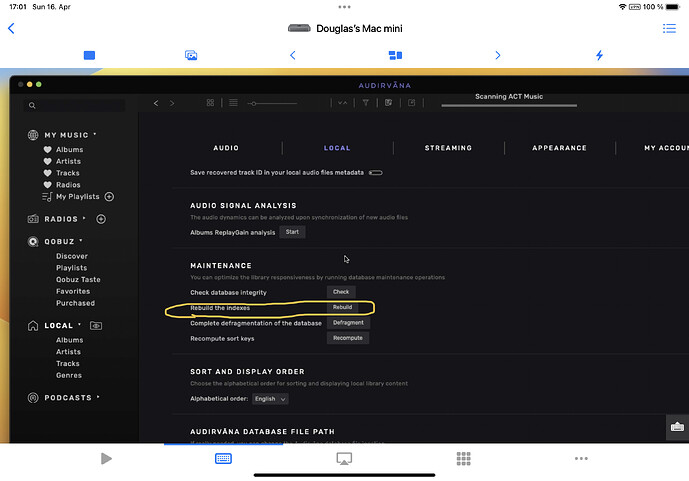 A database uses indexes (a type of sorted lists) to search and sort items. Audirvana's database is no different.
If you ever notice strange behaviour in sorting or searching or if the search takes a very long time you can try this option. You only need the options under 'Maintenance' if something seems wrong with your data. Normally you don't need to use it.
Thanks Andy for the fast reply

My problem is that l have quite a few hundred SACD's with artwork saved in my database, and until now I've always been forced to delete the Sacd whenever l added new artwork!
Audirvana would never recognized the new artwork otherwise

Once l re-added the Sacd, the newer artwork would be recognized immediately. With all other audio files it's much easier l know using the editing function, which in this case with SACD's won't work.
So instead of constantly deleting and re-added always, l was hoping with this function l could just add new artwork to all the SACD's I've changed, and viola, it'll be recognized by Audirvana


Hopefully this all makes sense and someone can confirm that this will work

I have seen some other posts about not automatically updating the data when changed. Audirvana seems a bit fidly with that.
Maybe in your case the manual rescan will help?

Didn't think of that! Will give it a try and post the results

Hi @Doug,
Does the SACD albums you have are all ISO files?
Hello Antoine. Yes…. all ISO's!
Didn't help unfortunately. No change in the Artwork

I will check with an ISO file and come back to you. If you try to add the artwork in the folder containing the ISO, does it works better that way?
No unfortunately. The only way new artwork is recognized and then displayed in Audirvana is when l delete the folder (with the iso & artwork), close Audirvana, re-add the folder to my library and then reopen Audirvana. A bit time consuming unfortunately. Thanks for any advice.
Hi @Doug,
It's strange you are having this issue as I have not been able to reproduce it on my side.
Have you tried to put a ISO in a synced local folder and try to add the jpg file into the ISO folder?
Hi Antoine, unfortunate indeed that it's not repeatable your side!
If l add a new ISO with an "folder.jpg" into an empty album file, they are immediately recognized by AS. It's only when l delete the "folder.jpg" and replace it with something newer, that's when the problem starts. The original "folder.jpg" is still shown in AS, even when l don't add/include any picture, or add a newer one!
Does AS file artwork maybe somewhere else in a separate Database?
I will try this

Hi @Doug,
I tried what you suggested but no luck this time either, it's hard to know the root cause of this.
When you do the change of the jpg file, do you have a synchronisation of the folder containing the ISO that start automatically?
Hi Antoine,
yes, the folder syncs automatically! A manual sync afterwards also brings the same (non) result.
This topic was automatically closed 90 days after the last reply. New replies are no longer allowed.