I use Audirvana every day for listening and I also have an upgraded iPod (256gb) which I maintain through Apples Music app (iTunes replacement). In Audirvana I keep the FLAC, DSF, etc files and in Music I keep the AAC, ALAC, MP3 files. So, for many albums I have a lossless version and a version for the iPod (usually 16bit. 48Hz ALAC).
In Music the lossless files don't show up because these file types are not recognised by Music - this is fine and means I just since everything to the iPod - easy!
In Audirvana I can see all the files in my Music folder (I don't sync to Apple Music, I 'watch' the Music folder instead so that I get all the lossless files). This means I see every version of a track in Audirvana.
Using the delete function in Audirvana I can select the lower resolution files and delete (hide) them from Audirvana - this not a hard delete and works great until…
When I restart the Mac and reopen Audirvana all of the previously deleted tracks (hidden) now reappear. When Audirvana starts it immediately does a sync and brings them all back. Interestingly when I check the Recycle Bin I can see the tracks still listed there as deleted. If I then delete them again they will reappear following a restart…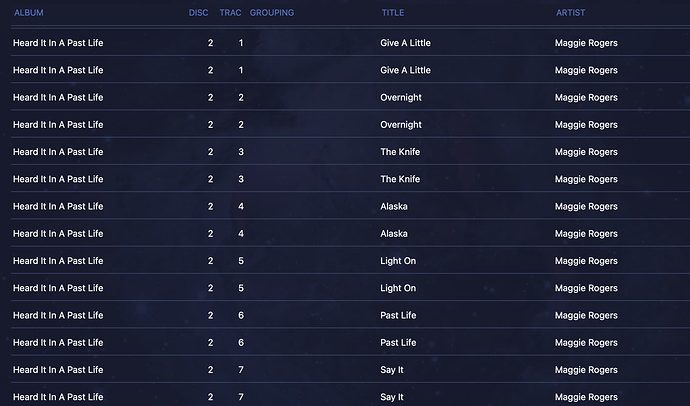 I am on a MacBook Pro using OS Big Sur v 11.0.1 and Audirvana 3.5.42
I did try saving the .sqlite file and replacing it but this didn't seem to work either.
Any suggestions how to keep the deleted files deleted?
I am a photographer and as part of my work flow I clear up the Mac and restart several times a week to keep it working smoothly for my business!