Hi all,
Since a 1 week, I cannot stream Qobuz music anymore on my Mac Mini with Yosemite 10.10.5 in Audirvana Plus. I made a reinstall of the Audirvana Plus v3.2.16 and tried to login to Qobuz in the streaming section, but in vain, see screenshot below: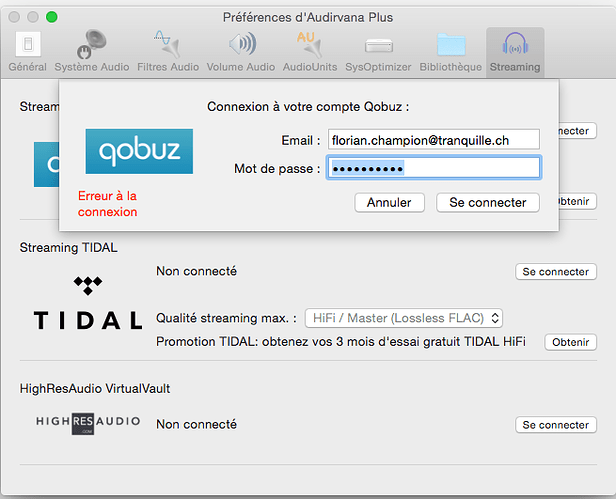 Yet, login is possible on the Qobuz Website, but not in Audirvana Desktop App. Syncing iTunes or bought albums in Qobuz also fails and the Audirvana stays empty. They are only 5 albums to sync, so it's not a matter of data size.
I tried to install the version 3.5, but my OS does not support it, I'm under Yosemite.
In order to make a clean reinstall, I deleted every Audirvana files in /Library/LaunchDaemons/ or in /Library/Privilegded Helper Tools/, but didn't solve anything. There is no Audirvana folder under /Library/Application Support/
What's wrong and how could streaming work again?
Thanks for any advice.
Best regards,
Florian