Hi all, i'm trying and testing Audirvana, actually I'm using iTunes, I like how iTunes show the Library; the artists, albums, genres and so on. I see a little difference between iTunes and Audirvana.
My problem is that when there are same album names from different artists and deferents paths, Audirvana mix songs from all the albums.
In other post someone suggests to rename the album name,
I don't want to re-tag all my collection because there are some albums with the same album title. There are more tags to separate not only album title.
In my collection, I have 32 albums called Anthology and 98 albums called Greatest Hits. But there are more repeated titles even if only once.
If original album is called "Time" (ELO and Fleetwood Mac has one) I don't want to retag them like "Time (ELO)" and "Time (Fleetwood Mac)".
Are there any other solution?
I show you an example. Like you can see, Audirvana show one album called "Grandes Exitos", but if you take a look into the PATH column, you will see that there are songs from different albums called "Grandes Exitos" from other artists.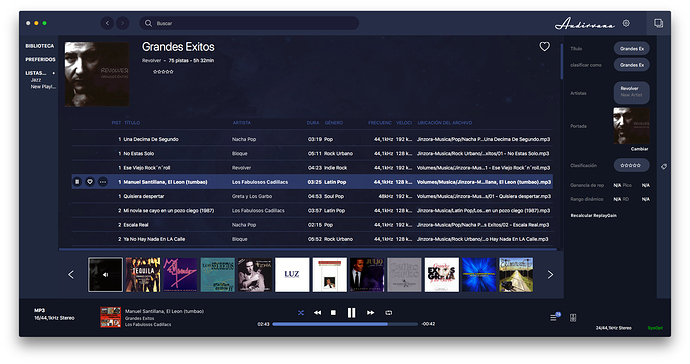 https://community.audirvana.com/uploads/default/original/1X/ecbddab6a2d81f8d1222f6e2ae073c75986d742e.jpeg