Hi, from time to time it looks like the buffering of qobuz tracks is not continuing.
(I noticed behaviour like this was reported before, but the thread is closed)
My internet connection is Wired and certainly fast enough.
I never have this issue in Qobuz app.
R8brain is set to upsample with a power of 2 so it upsamples to 705.6 or 768 and this takes almost no processor usage (i7 processor runs at 4% when doing so)
My dac is able to reproduce 705.6k and 768k
I already noticed a small bug in the audio settings > Output Device
where the two last sample rate numbers show 768. I believe this should be 705.6 and 768.
Also 352.8 and 384 seem to be missing here.
(The debug info shows the values supplied by the Dac mfg are okay, see below)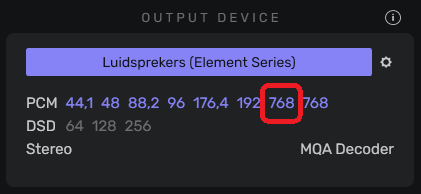 (Not sure if this is causing it).
I remember Qobuz app had this issue too about 2 years ago, but after an update it suddenly was gone. Don't know what they did to solve it? Can it be that they test the speed of a stream, and when too slow they simply abort and retry (to hope for a faster stream to start?)
Here is my debug info:
Audirvana Studio 2.2.3 (20203)

Windows 11 (22621) with 16GB physical RAM

Connected account of : Wim Hulpia

SIGNAL PROCESSING:

Polarity Inversion:
Globally: OFF
Per track: ON
Effects plugins NOT ACTIVE

UPSAMPLING:
r8brain with Power Of Two upsampling
r8brain filter parameters
Bandwidth = 99.5%
Stop band attenuation 218dB
Phase minimum phase

AUDIO VOLUME:
Max allowed volume: 100
Replay Gain: None
SW volume control: ON

LIBRARY SETTINGS:
Sync list: 1 folders
AUTO: D:\MUSIC\CD
Library database path: C:\Users\hulpi\AppData\Local\Audirvana\Audirvana\AudirvanaDatabase.sqlite

Remote Control server:
Listening on 2a02:1811:cd18:d800:ee46:a085:396:dcf4 on port 49893

ACTIVE STREAMING SERVICES
Qobuz: Connected as Qobuz Hi-Fi Sublime+

=================== AUDIO DEVICE ========================

Active method: Local

Max. memory for audio buffers: 2826MB

Local Audio Engine: WASAPI
Use max I/O buffer size: ON

Preferred device:
Luidsprekers (Element Series)
Model UID:TUSBAUDIO_ENUM\VID_20B1&PID_302B&REV_0330&KS
UID:\?\SWD#MMDEVAPI#{0.0.0.00000000}.{f719f798-a1d2-424d-b55c-db4875736203}#{e6327cad-dcec-4949-ae8a-991e976a79d2}

Currently playing in Integer Mode:
Device: 2ch 32bits Integer, 8 bytes per frame 705.6kHz

Active Sample Rate: 705.6kHz

Bridge settings:
Sample rate limitation: none
Sample rate switching latency: none
Limit bitdepth to 24bit: OFF
Mute during sample rate change: OFF

Selected device:Luidsprekers (Element Series)
Manufacturer: Matrix Audio
Model name: Element Series
Model UID: TUSBAUDIO_ENUM\VID_20B1&PID_302B&REV_0330&KS
UID: \?\SWD#MMDEVAPI#{0.0.0.00000000}.{f719f798-a1d2-424d-b55c-db4875736203}#{e6327cad-dcec-4949-ae8a-991e976a79d2}
USB Vendor ID: 0x20b1
USB Product ID: 0x302b

10 available sample rates up to 768000Hz
44100
48000
88200
96000
176400
192000
352800
384000
705600
768000

Volume Control
Physical: No
Virtual: No

MQA capability
Auto-detect MQA devices: Yes
MQA Decoder device
DSD capability: Unhandled

Device audio channels
Preferred stereo channels L:0 R:1
Channel bitmap: Ox3, layout:
Channel 0 mapped to 0
Channel 1 mapped to 1

Audio channels in use
Number of channels: 2
Use as stereo device only: No
Simple stereo device: No

1 output streams:
Number of active channels: 2, in 1 stream(s)
Channel #0 :Stream 0 channel 0
Channel #1 :Stream 0 channel 1
2 ch Integer PCM 16bit little endian 44.1kHz
2 ch Integer PCM 24bit little endian aligned high in 32bit chunk 44.1kHz
2 ch Integer PCM 32bit little endian 44.1kHz
2 ch Integer PCM 16bit little endian 48kHz
2 ch Integer PCM 24bit little endian aligned high in 32bit chunk 48kHz
2 ch Integer PCM 32bit little endian 48kHz
2 ch Integer PCM 16bit little endian 88.2kHz
2 ch Integer PCM 24bit little endian aligned high in 32bit chunk 88.2kHz
2 ch Integer PCM 32bit little endian 88.2kHz
2 ch Integer PCM 16bit little endian 96kHz
2 ch Integer PCM 24bit little endian aligned high in 32bit chunk 96kHz
2 ch Integer PCM 32bit little endian 96kHz
2 ch Integer PCM 16bit little endian 176.4kHz
2 ch Integer PCM 24bit little endian aligned high in 32bit chunk 176.4kHz
2 ch Integer PCM 32bit little endian 176.4kHz
2 ch Integer PCM 16bit little endian 192kHz
2 ch Integer PCM 24bit little endian aligned high in 32bit chunk 192kHz
2 ch Integer PCM 32bit little endian 192kHz
2 ch Integer PCM 16bit little endian 352.8kHz
2 ch Integer PCM 24bit little endian aligned high in 32bit chunk 352.8kHz
2 ch Integer PCM 32bit little endian 352.8kHz
2 ch Integer PCM 16bit little endian 384kHz
2 ch Integer PCM 24bit little endian aligned high in 32bit chunk 384kHz
2 ch Integer PCM 32bit little endian 384kHz
2 ch Integer PCM 16bit little endian 705.6kHz
2 ch Integer PCM 24bit little endian aligned high in 32bit chunk 705.6kHz
2 ch Integer PCM 32bit little endian 705.6kHz
2 ch Integer PCM 16bit little endian 768kHz
2 ch Integer PCM 24bit little endian aligned high in 32bit chunk 768kHz
2 ch Integer PCM 32bit little endian 768kHz

Local devices found : 2
Device #0: Luidsprekers (Realtek High Definition Audio)
Manufacturer: Realtek
Model UID: HDAUDIO\FUNC_01&VEN_10EC&DEV_0255&SUBSYS_1025125F&REV_1000
UID: \?\SWD#MMDEVAPI#{0.0.0.00000000}.{ce62f267-6e72-44d1-b66a-27e155306cf3}#{e6327cad-dcec-4949-ae8a-991e976a79d2}
Model name: Audio Device on High Definition Audio Bus
Device #1: Luidsprekers (Element Series)
Manufacturer: Matrix Audio
Model UID: TUSBAUDIO_ENUM\VID_20B1&PID_302B&REV_0330&KS
UID: \?\SWD#MMDEVAPI#{0.0.0.00000000}.{f719f798-a1d2-424d-b55c-db4875736203}#{e6327cad-dcec-4949-ae8a-991e976a79d2}
USB Vendor ID: 0x20b1
USB Product ID: 0x302b
Model name: Element Series

UPnP

UPnP devices found : 1
Device #0: Denon AVR-X3500H
UID: uuid:c88c34bd-f2b2-16b6-0080-0005cdcda62e
Location: http://192.168.0.155:60006/upnp/desc/aios_device/aios_device.xml
Manufacturer: Denon
Model name: Denon AVR-X3500H

Chromecast

Chromecast devices found : 0