Same problem here, please do something I can't use theapp anymore, thanks!
same problem.after reinstall the apps i can start the apps and connect qobuz ,but tidal can not login
Same here, updated and it won't start
When I try to open Audirvana, an error appear and it's not possible to use it.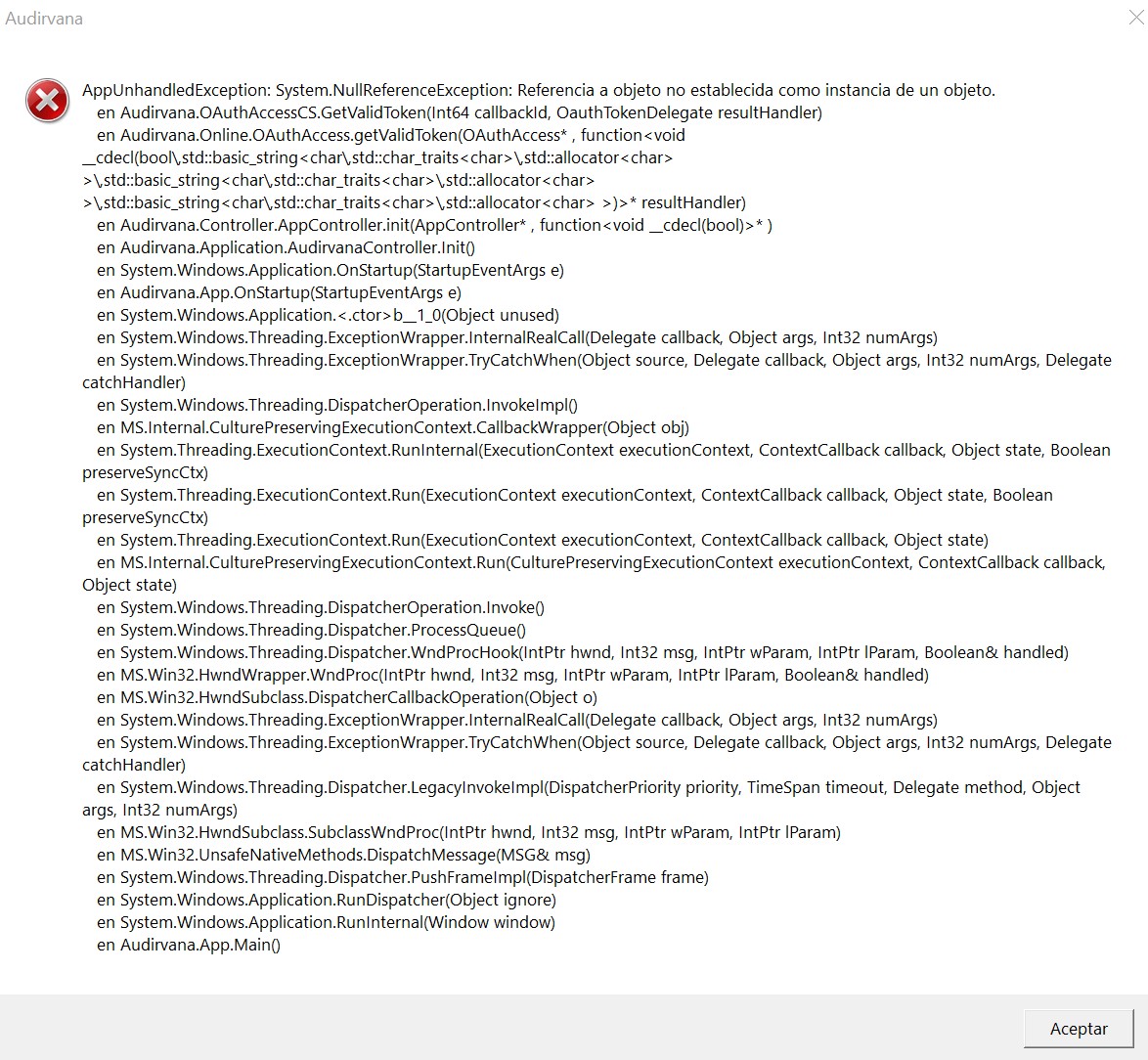 How can I solve it?
Thanks in advance.
Last revision for windows does not work.
doing anything, now works again

Hello everyone, we made an update regarding this issue earlier this morning, you can now update Audirvana to the latest version. It will be 3.5.8 since we made a hot fix of Tidal Playlist duplicate.
Everything works ok now
Thanks!
Now it's loaded but still only garbled noise when trying to play MQA in either WASAPI or ASIO.
In the settings MQA is it a renderer What you have
Or a MQA Device ?
Proper setting?
Gr Ric
I have tried both settings on two DAC's. My primary is a Pro-ject Pre Box S2 Digital which will do total decode but I did have it set as renderer. Second DAC tried is the IFI Zen which was also set to render. Both only play garbled trash when trying to play MQA now. Both worked perfectly prior to last weeks 3.5.5 update.
You need to set for both MQA Decoder and for the moment disable the auto-detect MQA.
And If this didnt works the setting in the tidal app
Must be not exclusive for music playing tidal DAC or speakers
And sometimes is it better to delete old app en new download and log in Again in Tidal
Update 3.5.8 is up and running, relogged on to Tidal, but still gives the "mini dump file" and then crashing Audirvana when playing MQA files in WASAPI on the Cobalt…
Set Pro-Ject Pre Box to decoder and no auto detection. Played first MQA track correctly then next track garbled noise again. All doing the same now, just noise. Also doing this on Tidal app.
After successfully updating to Version 3.5.8, all of my local and Qobuz Hirez files at 24/192 and DSD are no longer audible. They barely register on my DAC at max volume.
Here is the log file.
Audirvana 3.5.8
This is very frustrating. I want my MQA and high res playback working again.