Is Audirvana going to be available on the upcoming Apple silicon Macs?
Ah this is an interesting question indeed.
Being a developer myself I'm curious too. Not sure how well Rosetta 2 will handle the existing version. I'm going to give it a try as I have one of these ADP Mac minis with the apple silicone.
Building for native apple silicone (God I hate that name) might be challenging depending on what frameworks are being used.
A native version of Audirvana for ARM based Macs will be inevitable. The question is when it will be launched. For best SQ there is no other way than a native Audirvana for these Macs.
Matt
I'd let @Damien3 answer that, not sure how inevitable an ARM version will be, it might be a lot of work.
As far as SQ it should not matter if it is running under Rosetta 2 or native, imho.
What is your Mac hardware?
Thanks
Matt
Sadly DSD works the same way for my Marantz PM7000N via UPNP, only converting to PCM.
I haven't tried connecting my USB DACs yet.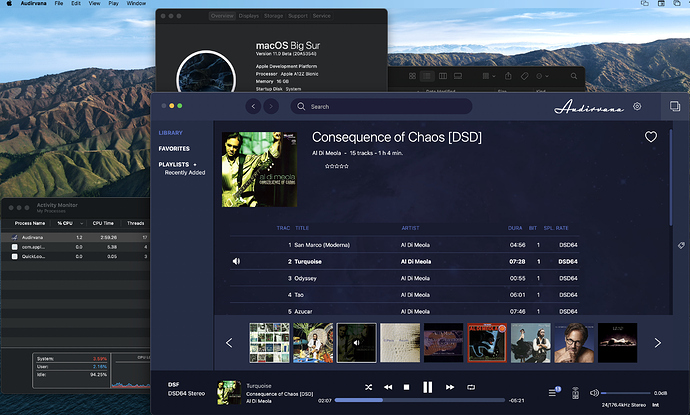 @matt I have a few Macs, but as per my messages in this thread here I'm testing on the ARM Apple Development Platform Mac Mini with Apple A12Z Bionic chip.
I am sure there will be SQ differences between native and non native Audirvana, so in the end a native Audirvana will coming. Then it will run perfectly on iPads as well.
Matt
I'm curious what are you basing your certainty regarding SQ on.


I very much doubt there will be any. But the reality is at this point nobody knows.
Damien will look for the best SQ, so let us wait and see.

Matt
Hello @VoyagerDude, @matt and @Palandrel,
We have the Apple Transition Kit since it's available for Developer and we tried Audirvana 3.5. It actually worked pretty well but we will need to make more test regarding it to get an optimized version of Audirvana for Silicon Mac as it's just the beginning of this new platform.
Hello @Damien3,
any updates about development of native Audirvana for the Apple Silicon Macs?
Thank you
Matt
Just ordered Apple's new Mac Mini with M1 silicon. Does anyone know if a native Audirvana app will be forthcoming? Hoping Rosetta 2 will work until that time.
Audirvana currently works on the Apple silicon Mac mini DTK that was shipped to developers in June under Rosetta 2.
Thanks! That's good news.
I'm also planning to buy a new Mac Mini solely for Audirvana to replace my 2012 MBP. Does anyone know if I can install the same usb driver I used on my old MBP to connect the Mac Mini to my Pioneer DSD usb DAC or does Pioneer need to create a new driver for the M1?
I have an 8gb ram, 8 core cpu/gpu 512gb M1 MacBook Air. Audirvana is working just fine for me via Rosetta 2.
Hi Derek,
the current Audirvana may work with Rosetta2 but it is not a perfect solution.
Native Apps for the Silicon Macs work much better, faster and smoother than Apps via Rosetta2.
So I think it will be a matter of time that Damien will launch a native Audirvana for Silicon Macs.
I think that SQ will then benefit as well.
Matt