Is there to delete albums from Studio?
I could not find a way to do it. The albums were displayed in the player even though I removed them from the music folder that was synchronized with AS. And the only advise that other users gave me was to trash the library of AS.
However, before doing that, I'll advise you to check if there is no other way to remove the albums, because if you trash the library, as I did, you'll have to pass through the whole analysis once more.
Damien should make that an option Jriver Foobar and I believe Room all have that option
I agree with you. It is odd to trash the library if you want to make disappear some albums from the player, even though you removed them from your synched folders.
Hi,
This is new in Studio and when removed an album using hover over album picture click on '…' → then do delete.
Then did you notice in the menu bar the option view → Show Recycle Bin?
all your removals will be there, and now you have the option to physically remove them to the trashcan, and through empty recycle bin from disk.
It's working fine on MacOS.
Guido.
does not work with windows .Can u take a screenshot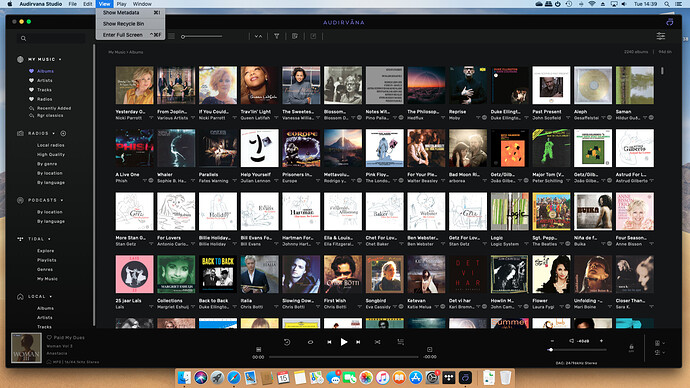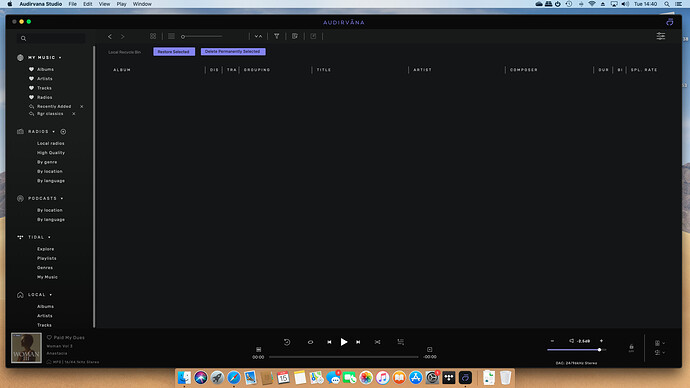 Sure here you see them (in the view menu) and then the screen that contains what you have deleted. You can there remove them permanently to trashcan.
Guido.
On Windows these menu options are unavailable.
Hi,
I'm also having problems with the recycle bin in Mac OS. I choose to delete the files permanently, but nothing happens and the files are still in the recycle bin.