AS 1,7,0 on Mac
The topmost field, which displays the played album is nicely crafted but has some glitches of layout. The problem of the 1st point comes from the missing ID3 tag "Album Artist". Here is why it is needed for compilation albums: https://mkoby.com/2007/02/18/artist-versus-album-artist/
(3rd paragraph).
The ID3 tag "Is part of a compilation" also misses in AS.
For compilation albums (taged as a compilation album) AS displays the artist of the 1st track. Correct would be (no composer) and "Various Artists" (= Album Artist tag)
Sometimes AS shows wether a composer, nor an artist: would be also a good solution.
2 If a playlist consits of only 1 album, it shows 6 times the same album: not very elegant.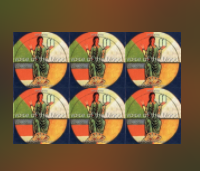 After the hyphen between composer and artist a space is missing