@Antoine HOW DO I ACCESS "MY WEEKLY Q" ON AUDIRVANA STUDIO ? IN ENGLISH THIS A COMPLETE SENTENCE.
BOBBMD
This has been discussed. I'm interested too. It seems this special playlist will be available in AS lately this year when Qobuz will give access to this future for their partners. Until that you can listen it with Qobuz apps or their web player. Or you can add tracks from it to favourites and listen with Audirvana. Or make a playlist with tracks from it for the same reason. In my opinion you can listen the playlist with Qobuz app and mark the tracks you like.
Using the Qobuz web player, you can create a public playlist right from that section (see image below), and then it will show up in Audirvana as a playlist.
Web Player: Qobuz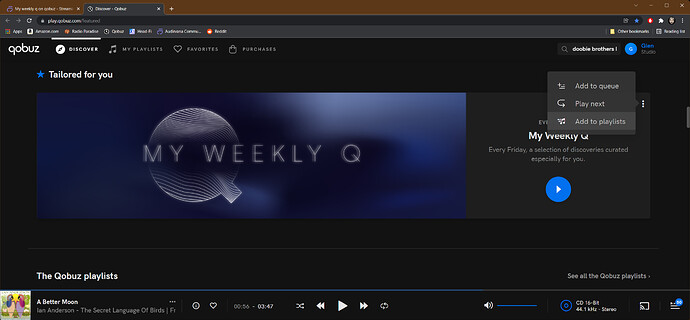 This is cool too. But I prefer to listen it with Qobuz app with ASIO (the sq is not so bad for me) because after the playlist I can listen to autoplayed tracks wich always are a pleasant surprise for me, at least some of them (and I can mark the tracks I like as favs of course).
thanks all-- that is what i have experienced and hope it will change and have one playlist made of about 200-300 songs from my Weekly Q on my Qobuz desktop–BTW SQ on both AS & Qobuz is about same (AS BEST) BUT AS is far superior to ROON and I hardly use ROON anymore too loud and too harsh must MQA !
No, is not the same. AS sounds better. But I admit for me is not just AS. Other elements are involved: Inverted Polarity, DoP 1.0, 2 VST from Goodhertz, upsampling with r8brain "power of two" 90/60 linear. The 2 plugins are CanOpener & Midside. I also think Qobuz app sound is good and has been improved, clearly they did something. And with ASIO (large buffer) and cache set to "Optimal" it's very pleasant for me.