When selecting a Qobuz suggested playlist the contents aren't listed.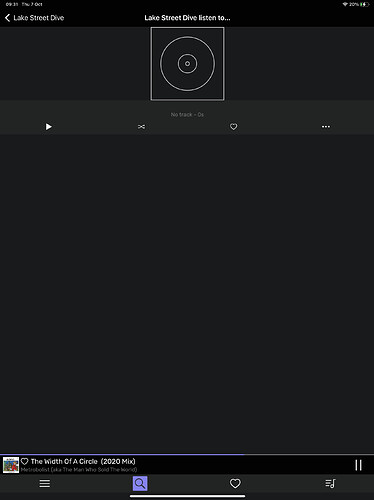 Track listing from the Qobuz app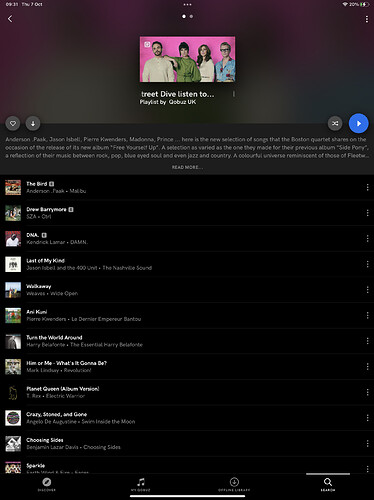 Hello @coldbeer,
The content doens't show up even if you reload the app?
Hi @Antoine
No it doesn't.
So I use the search function for "Lake Street Dive" Remote gives me a list of tracks, artists (just 1), playlists and albums. Selecting the Artist then from "PLAYLISTS WITH THE ARTIST, FROM QOBUZ" all playlists are empty, non track listing and no album art as my 1st screen grab.
I don't know if it's because I get the playlist from Qobuz France but it's displayed correctly on my side

do you have this issue with any playlist curated by Qobuz UK you can find in Studio?
You can find them in Qobuz > Playlist > Listening with…
All other Qobuz playlist locations are good, it's only if you search for an artist, choose the one you want then select any of the suggested playlists from Qobuz.
For instance I've just searched for Donald Fagen - Audirvana gives me a list of playlists, tracks, albums and artists. If I select one of these playlists it works fine but if I first select the artist then the exact same playlist it is blank.
FYI I only have Qobuz and my local library, which does not contain any Donald Fagen, so my only search results are from Qobuz.
If you try to open this playlist in Studio you are able to see all of the tracks?
What is the version of iPadOS you have installed and the version of Studio you are using?
iPadOS 15.0 (19A346)
Studio 1.7.1 (10701)
Same behaviour on iPad Pro, Air and Mini
Same with iPhone iOS 14.8 (18H17)