I have some albums in a scanned folder on my NAS that imported correctly :

I decided to add one album (*) and did a rescan of the folder and now suddenly one track from an album that was correctly imported before starts a new life as a new album.

When I remove the album where that track is originally coming from and do a rescan :
AS suddenly extracts a track from the album I originally added (*) (De Top collectie Kleinkunst)
But I have no clue where this new album name (Bel 2000 : …) is retrieved from.

I checked the Metadata and the metadata from this track and it's correct.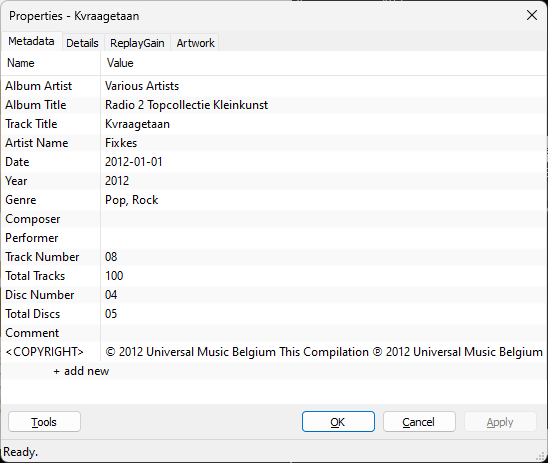 I cannot add a single album as when I try to resync something is going wrong.
The only way to get it fixed is to remove ALL albums from the scanned folder, do a rescan, and then put ALL albums back, and do another rescan.
This is okay for 10 albums or so, but I have 1000s CDs ripped on my NAS and I don't like to think about it that if I have to add just one more I have to rescan all of them every time as it's very time consuming.