Hello,
I have been using Audirvana from 2019 the last year I have been subscribing to Audirvana Studio (AS).
I just updated to AS2.1 and after that on the same setup and same arrangement of drivers and hardware there is a noise present when playing back SACD.ISOs I did not try DSD files as I needed to use the software. This little "uppdate" sent me off for some hours to find a backup of the 1.9 version that still works when I uninstalled 2.1 and reverted back to 1.9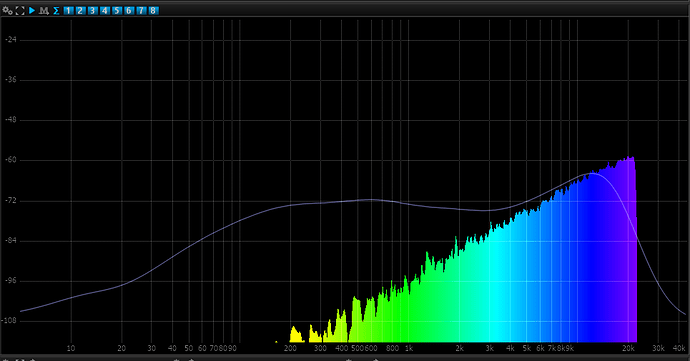 This picture shows the frequency response of the head of the first track of an ISO image that hold minimal audio data but the track has anyway started.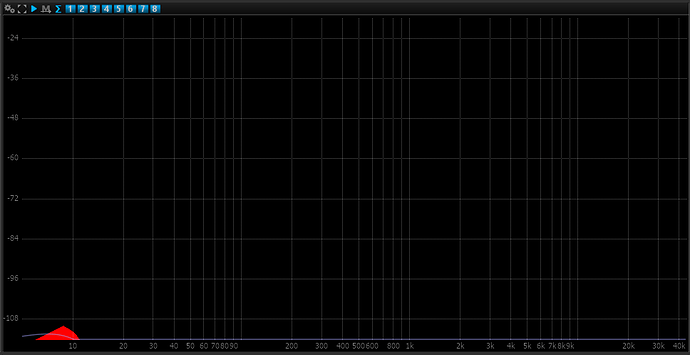 This picture shows the frequency response from approximately the same position on the same ISO… This is somewhat more of what I would expect to see.
What is broken?
I am soon to extend my license but frankly I will not do it unless this is working OR that there is any way to download older versions. Now I was lucky that I could revert to version 1.9 (10900) but most are not that lucky. I experienced identical problems in v2.0.4.0 that I also had laying around.
On a side note also related to SACD it seems to be a brick wall low pass filter @ app 22.1kHz. Why is that?.. it is easy to see in the noise of AS2.1 but when I playback in AS1.9 it is not much happening over 22.1k. Foobar for one even give a slight overshoot of noise up over 30-40k which would be nice to choose to have at least. Some of the tonal qualities that AS1.9 show is not there in Foobar but if I analyze my SACD player I can make the high end in this area to be just as unfiltered as Foobar is playing. Audirvana did play nicely ALSO up in this region in the past before possibly 3.1 of the old version. So, question is why is it not matching what a high end player does in terms of filtering?
Note, I do not believe hear the actual 20k + frequencies but I hear the limitation that it implies in the time domain.

) I also limit the playback to 96k hence I only see up to 48k This is in order to be able to playback in a professional environment with external word clock. I have found that a stable clock is to prefer any day of the week beyond what the higher FS are doing when using internal clocks that leaves quite a bit to wish for. The SRCs are quite decent these days in these software's.
This is unrelated to my problem as it is the same settings and the same system that produces these different results. The brick wall filter is however seen here quite clearly in the non functional 2.1
I enclose my debug data below of both 1.9 that works and of 2.1 that does NOT work.
Cheers,
/F
---
Audirvana Studio 1.9.0 (10900)
Windows 10 (19045) with 32GB physical RAM
Connected account of :
SIGNAL PROCESSING:
Polarity Inversion:
	Globally: OFF
	Per track: ON
Effects plugins NOT ACTIVE

UPSAMPLING:
SoX custom frequencies
SoX filter parameters
Bandwidth at 0dB = 99.5%
Filter max length = 30000
Anti-aliasing = 100
Phase = 66%
AUDIO VOLUME:
Max allowed volume: 100
Replay Gain: None
SW volume control: OFF
LIBRARY SETTINGS:
Sync list: 1 folders
AUTO: F:\SACD 2.0-5.1
Library database path: C:\Users\fg\AppData\Local\Audirvana\Audirvana\AudirvanaDatabase.sqlite
Remote Control server:
Listening on 192.168.20.30 on port 52309
ACTIVE STREAMING SERVICES
Qobuz: Connected as Qobuz Studio
TIDAL: Connected as HIFI
=================== AUDIO DEVICE ========================
Max. memory for audio buffers: 12838MB
Local Audio Engine: ASIO ASIO 2 driver version 2
Preferred device:
Model UID:
UID:

Currently playing in Integer Mode:
Device: 8ch 32bits Integer, 32 bytes per frame 96kHz
Active Sample Rate: 96kHz
Bridge settings:
Sample rate limitation: 96kHz
Sample rate switching latency: none
Limit bitdepth to 24bit: OFF
Mute during sample rate change: OFF
Selected device:
Local audio device
ASIO Link Pro
Manufacturer:
Model Name: ASIO Link Pro
Model UID: ASIO Link Pro
UID: ASIO Link Pro
1 available sample rates up to 96000Hz
96000
Volume Control
Physical: No
Virtual: No
MQA capability
Auto-detect MQA devices: Yes
Not a MQA device, user set to not MQA
DSD capability: Unhandled
Device audio channels
Multichannel: 8 channels
Preferred stereo channels L:0 R:1
Channel bitmap: Ox63f, layout:
Channel 0 mapped to 0
Channel 1 mapped to 1
Channel 2 mapped to 2
Channel 3 mapped to 3
Channel 4 mapped to 4
Channel 5 mapped to 5
Channel 6 mapped to 6
Channel 7 mapped to 7
Audio channels in use
Number of channels: 8
Use as stereo device only: No
Simple stereo device: No
1 output streams:
Number of active channels: 8, in 1 stream(s)
Channel #0 :Stream 0 channel 0
Channel #1 :Stream 0 channel 1
Channel #2 :Stream 0 channel 2
Channel #3 :Stream 0 channel 3
Channel #4 :Stream 0 channel 4
Channel #5 :Stream 0 channel 5
Channel #6 :Stream 0 channel 6
Channel #7 :Stream 0 channel 7
8 ch Integer PCM 32bit little endian 96kHz
Local devices found : 2
Device #0: ASIO Link Pro Manufacturer: Model UID: ASIO Link Pro UID: ASIO Link Pro Model Name: ASIO Link Pro
Device #1: MOTU Pro Audio Manufacturer: Model UID: MOTU Pro Audio UID: MOTU Pro Audio Model Name: MOTU Pro Audio
UPnP devices found : 0
---
Audirvana Studio 2.1.0 (20100)
Windows 10 (19045) with 32GB physical RAM
Connected account of : Fredrik Gunnarsson
SIGNAL PROCESSING:
Polarity Inversion:
	Globally: OFF
	Per track: ON
Effects plugins NOT ACTIVE

UPSAMPLING:
SoX custom frequencies
SoX filter parameters
Bandwidth at 0dB = 99.5%
Filter max length = 30000
Anti-aliasing = 100
Phase = 66%
AUDIO VOLUME:
Max allowed volume: 100
Replay Gain: None
SW volume control: OFF
LIBRARY SETTINGS:
Sync list: 1 folders
AUTO: F:\SACD 2.0-5.1
Library database path: C:\Users\fg\AppData\Local\Audirvana\Audirvana\AudirvanaDatabase.sqlite
Remote Control server:
Listening on 100.64.100.6 on port 57591
ACTIVE STREAMING SERVICES
Qobuz: Connected as Qobuz Studio
TIDAL: Connected as HIFI
=================== AUDIO DEVICE ========================
Active method: Local
Max. memory for audio buffers: 12538MB
Local Audio Engine: ASIO 2
Driver version 2
Use max I/O buffer size: ON
Preferred device:
ASIO Link Pro
Model UID:ASIO Link Pro
UID:ASIO Link Pro
Currently playing in Integer Mode:
Device: 8ch 32bits Integer, 32 bytes per frame 96kHz
Active Sample Rate: 96kHz
Bridge settings:
Sample rate limitation: 96kHz
Sample rate switching latency: none
Limit bitdepth to 24bit: OFF
Mute during sample rate change: OFF
Selected device:ASIO Link Pro
Manufacturer:
Model name: ASIO Link Pro
Model UID: ASIO Link Pro
UID: ASIO Link Pro
1 available sample rates up to 96000Hz
96000
Volume Control
Physical: No
Virtual: No
MQA capability
Auto-detect MQA devices: Yes
Not a MQA device, user set to not MQA
DSD capability: Unhandled
Device audio channels
Multichannel: 8 channels
Preferred stereo channels L:0 R:1
Channel bitmap: Ox63f, layout:
Channel 0 mapped to 0
Channel 1 mapped to 1
Channel 2 mapped to 2
Channel 3 mapped to 3
Channel 4 mapped to 4
Channel 5 mapped to 5
Channel 6 mapped to 6
Channel 7 mapped to 7
Audio channels in use
Number of channels: 8
Use as stereo device only: No
Simple stereo device: No
1 output streams:
Number of active channels: 8, in 1 stream(s)
Channel #0 :Stream 0 channel 0
Channel #1 :Stream 0 channel 1
Channel #2 :Stream 0 channel 2
Channel #3 :Stream 0 channel 3
Channel #4 :Stream 0 channel 4
Channel #5 :Stream 0 channel 5
Channel #6 :Stream 0 channel 6
Channel #7 :Stream 0 channel 7
8 ch Integer PCM 32bit little endian 96kHz
Local devices found : 2
Device #0: ASIO Link Pro
Manufacturer:
Model UID: ASIO Link Pro
UID: ASIO Link Pro
Model name: ASIO Link Pro
Device #1: MOTU Pro Audio
Manufacturer:
Model UID: MOTU Pro Audio
UID: MOTU Pro Audio
Model name: MOTU Pro Audio
UPnP
UPnP devices found : 0
Chromecast
Chromecast devices found : 0