SACD ISO's tags are often incorrect or missing. I can't find a tool to edit tags, so I spent my spare time making this tool, hoping it will help you.If you feel good, you can donate it, Thank you. If you have any problems, send them to my e-mail: [email protected]
Suggest, before edit ISO, backup it!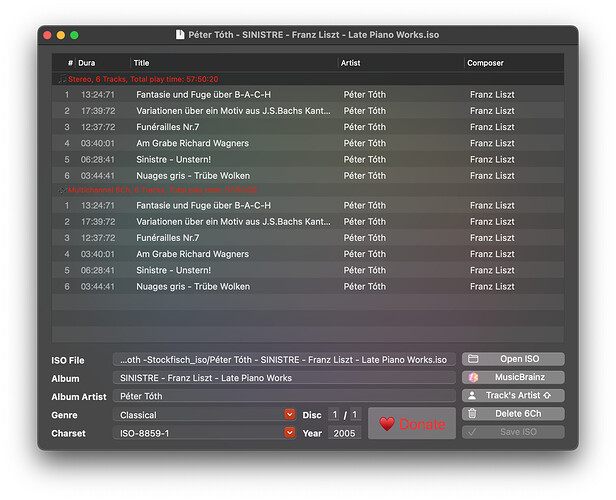 V1.4.2 add MusicBrainZ to search tags
V1.4.3 fix tracks count <=3, lost last track info.
V1.4.4 add Year, and charset add Chinese info.
V1.5.0 change UI, add TouchBar, can Paste Tracks info from web, fix some bugs.
V1.5.1 fix Charset changed not save, Chinese(GB2312) is ok now.
V2.0 add Mulit-ISO open, open a iso will in a new tab.
V2.1 add SACD ISO Preview / QuickLook, need run new version once.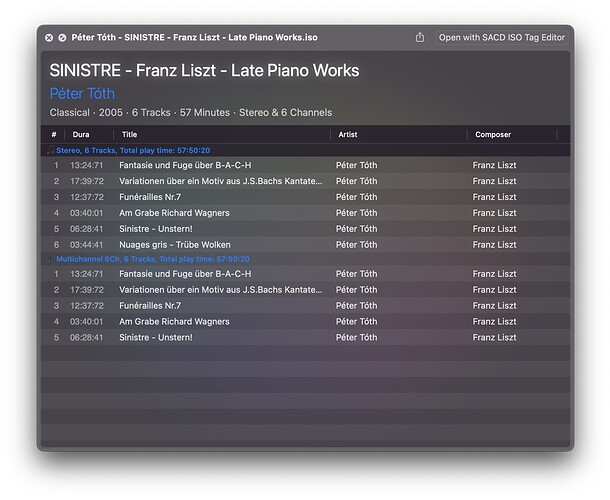 Audirvana may not auto reload ISO info, Please remove the ISO and add it again.