I had other directories in the music folder that I wasn't including in the library. Actually, now I can reference just the music directory because I have since moved out what's not included in the library. Just never changed it.
OK, check this out.
So, I was trying to get AN to recognize some failed (that I knew of) reads by reconverting flac, updating tags, clearing and updating tags, etc. Nothing changed.
I have the first and second albums by Jo Jo Gunne. The first was not being included in the library. Today I run AN, it goes though the scan at startup (I have this option turned on) and it finds the first one. Yay! But now the second one is not there.
How can this not be a bug with AN? I had already done a test by setting AN to read from a backup I have of my library on an easystore external drive and AN found all the ones that I was aware of that were missing. I switch AN back to read from my NAS and,nope, doesn't find them. It's a readynas RN314.
Guys, I am going to guess and say that AN has an issue with reading from the readynas rn314.
I am willing to help debug this issue but not by re-tagging, etc, etc, etc. It has to be something else that's causing the issue.
[EDIT: I have just found that AN failed to include 9 of the 11 Tom Petty albums.]
Hello @moonloop,
Can you drag & drop one of those file in the play queue to see if you can play it or see the metadata of the file? Do you have some cue sheet file in the album folder?
Yes! Dragging to queue plays and shows the metadata including album art. I pulled all the files from the folder. Played and showed all with out issue. That's interesting.
No cue sheet. Just the tracks and art.
Can you check the database integrity using the command in the Maintenance section of the preferences page?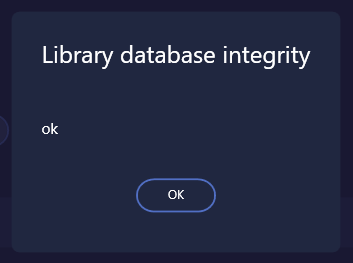 Okay, Does the albums that are not displayed in Audirvana are files that are 2Gb size or more?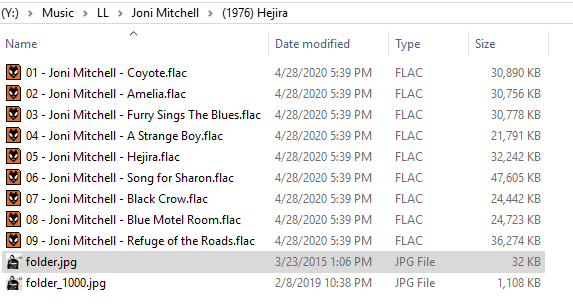 Sorry for the long delay. My trial has expired. Do you still want a file?
Hello @moonloop, yes please, I can give you a trial extend if you want.
Damien3, is there any progress with this issue. I am experiencing the same behavior in a very similar setup (Mac OS X 10.14.6, QNAP TS-269L v4.3.4.1282, 2.5 TB database managed by iTunes), t.i. albums missing. Dragging missing album into the play queue plays and shows correctly.
One additional caveat: I have two macs authorized, scanning the same database and the difference in track numbers:
iTunes: 91,552
Macbook Pro: 75,410
Mac Pro: 69,500
and changing by couple of %s after every scan…
Something is definitely wrong with the scan. I've made some analysis comparing the three databases track by track. I did not find a common issue between the missing tracks.
Can it be a temporary access timeout issue? Is there any log about the access errors?
Just to show how wild the situation is. Just made a re-scan on the database after the previous post and the track count is 83,288 now on the MacBook Pro. No change in the database at all.
Do you have the remote recycle bin enabled on the share on your NAS?
Yes, it is enabled. Is it good or bad?
Something happened, now everything is good and in sync. Is it possible, it is still syncing when doesn't show the progress bar. It seemed, added a large number of songs hours after finished syncing.
That could be causing some of the issues you have. Disable it on the share where you store the music files.
Hi
I am experiencing the same issue, MacBookPro 2018 MacOs 10.15.5
I don't use any NAS and only have one sync folder.
I can add either the cue file or the complete album to the queue list, but it never shows up in the albums list.
May you help me to fix this issue?
Thank you very much
Regards
James
Ok I managed to fix some of the files metadata with Picard. Thanks to @bitracer for sharing this software.