Audirvana 3.5.9 Mac: What's that? Suddenly all albums are displayed twice. How can I undo this? See screenshot below.



I'm glad that I am not alone.
I submitted this problem over at the Computer Audiophile Audirvana 3.5 forums but received no constructive feedback.
I get duplications of any tracks that are in my play queue if I perform a sync without clearing the play queue first.
The only way I have figured out how to correct the duplication is to trash the database file contained in the ~Library/Application Support/Audirvana. When you do this and restart Audirvana, you will be asked to migrate again. Then you have to sync again after that.
The way to avoid the duplications is to never have anything in the play queue when you sync your library.
I hope the Damien or someone can chime in here and verify that this is a bug and that there is fix in the works or that I should do something else.
Yes, the same here: artwork is doubled in 3.5.9 - but is not in 3.2.x. Both with exactly the same watched folders.
I don't get duplicated album artwork but I do often get duplicated tracks in the library.
Example in screenshot, Album is only present in sync folder once, seems to happen randomly to albums not long after they have been played, not all albums however so I can't quite see a common theme causing this issue.
Removing the album and adding back into folder to re-sync works most of the time. If not, deleting the Aurdirvana database and re-migrating will correct things - but its a bit of a nuisance and it will happen again with another albums soon after.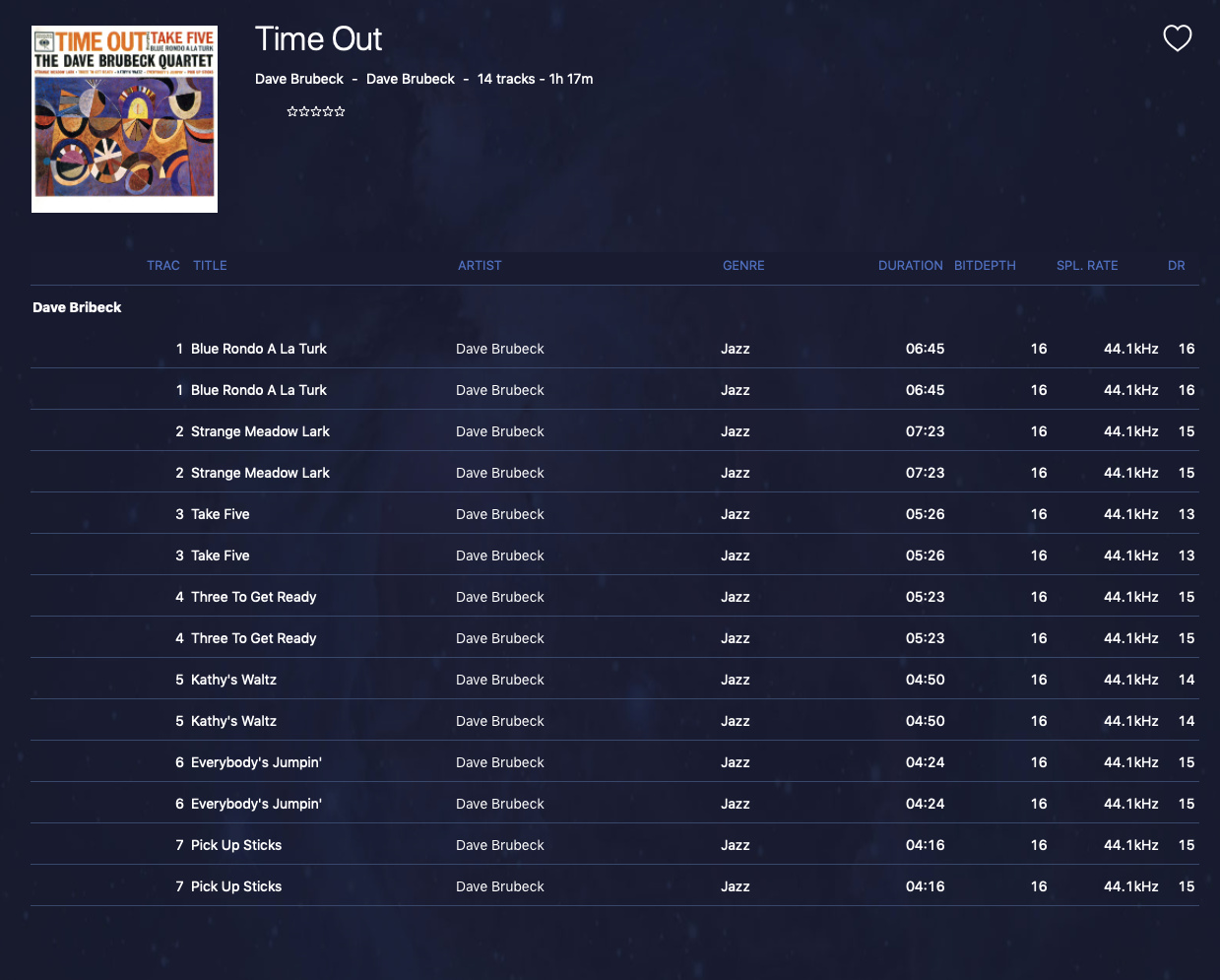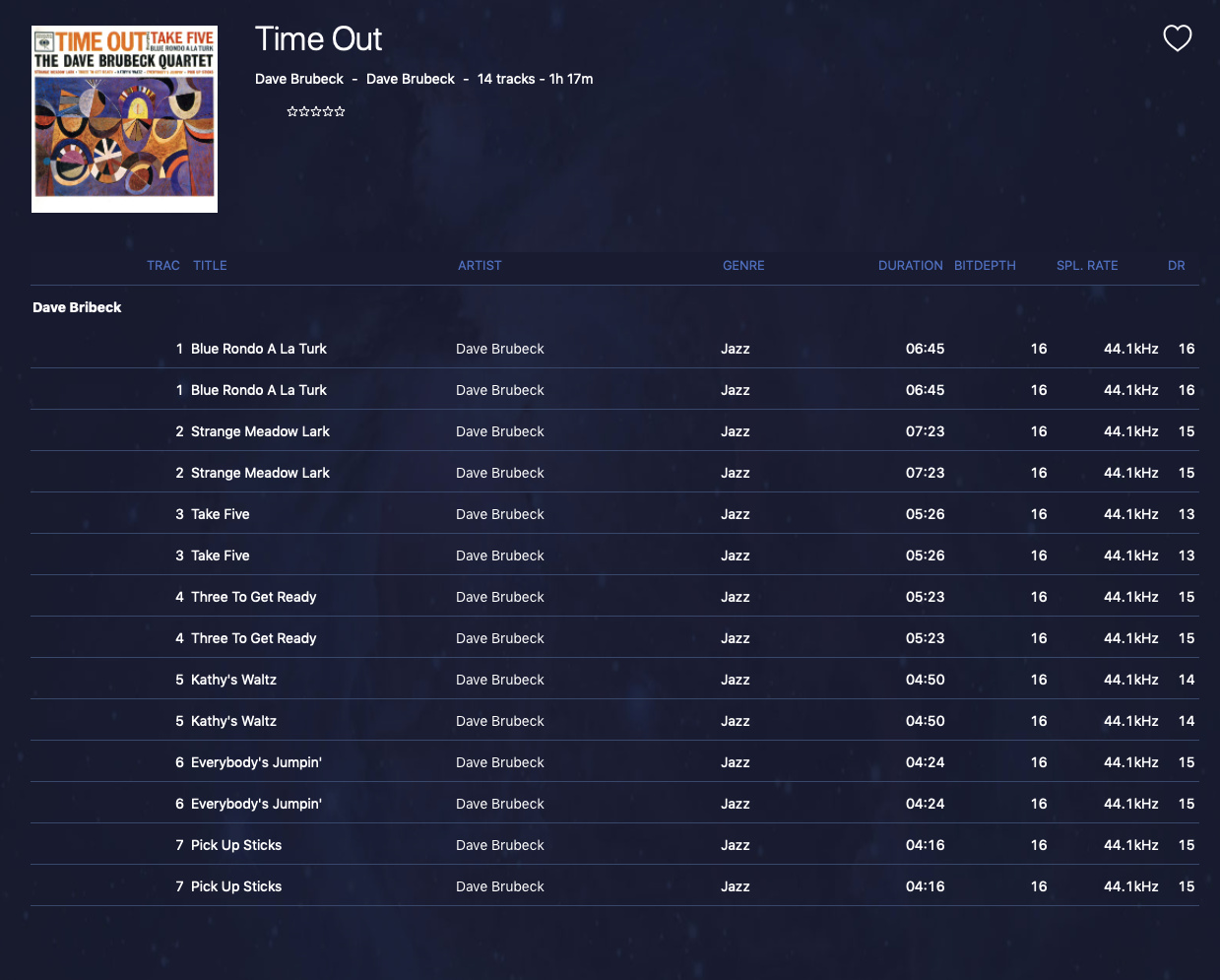 @audiosurge
Does your duplication occur with tracks that are in the play queue when you sync?
That seems to be the common theme with me. If my play queue is empty when I sync, I get no duplication of tracks in the library.
I had seen what you wrote about the play queue/sync connection and I am not sure if that is the case or not with mine, I will try to take more notice of the circumstances that cause it. Either way its a PITA.
I think you are correct. I just started Audirvana after adding a new album into my watched folder, on startup it auto syncs. The last album I played before previously quitting Audirvana was still in the play cue, now it is duplicated.
I unchecked "Sync at startup" because of this and always try to clear out the play queue before I sync manually. Until this problem is resolved it seems to be the only solution. I don't understand why there aren't more people reporting this, both here and over at the CA forums.
I am bumping this.
Hopefully, someone from support can respond to these duplication problems.
In my case, I get duplication of tracks within albums whenever I sync the library and I forget to clear out the play queue.
Is this a bug? Am I doing something wrong? I never had this issue with previous versions.
I use A+ Remote if that matters.
Can you take two such duplicated tracks, and check their complete file path?
For getting the file path of a track, select the track, then open the metadata editor (clicking on the tag icon far right of Audirvana window). The file path is on the top of the metadata info panel.
If they are different, then this means you do have two duplicate copies of these audio files. You'll then want to remove one. This will also save disk space.
If they are the same, then you may have a database built in an older version that had not the workaround for the Synology NAS changing their network share ID. The solution is then to delete the database file to reconstruct it.
So delete the file AudirvanaPlusDatabaseV2.sqlite to restart from scratch.
It is located in ~/Library/Application Support/Audirvana
To access ~/Library with the Finder, you can use its Go menu while pressing the option (or alt) key. This reveals the Library command in this Go menu.
Special Warning : When you delete the file AudirvanaPlusDatabaseV2.sqlite, you will lose all the Playlists you created in Audirvana. However, you can back-up all those Playlists by exporting them before deleting the database file.
Thank you @damien .
I have not been able to replicate this problem in order to check the complete file path. So that is good news.
I had two different versions of Audirvana on my LAN, one on my iMac which I occasionally used and one on my Macmini which was the one I pointed A+Remote to.
I updated Audirvana on my iMac, got rid of the AudirvanaPlusDatabase on the iMac and instructed the iMac Audirvana to use the AudirvanaPlusDatabaseV2 on the Macmini. Now both machines are using the same Audirvana version and the same AudirvanaPlusDatabaseV2.
I am pretty confident that this fixed my problem since I was consistently able to replicate the problem before and now I can no longer do so. It is also a wise thing to do because the playlists are now synced across both devices.
Fingers crossed,
I would advise to NOT use the same database on 2 computers, as this could lead to damaged database
due to potential simultaneous access on the same database file.
And on the Mac accessing the database file over the network, this has a negative impact on the navigation performance.
Except very specific and controlled uses, it is always advised to keep the Audirvana database file on the internal drive.
@damien
Thank you for the information. I'll revert back to having two separate databases.
I submitted a support request back in April 2019 since I had the same issue while syncing to my music library on a Synology NAS on my home network. I had the issue with the previous Mac version and with the new 3.5.x versions. Sometimes, the whole library was duplicated, at other times, only some albums and/or some tracks within albums. I was told it was due to a DSM update of my Synology that caused Audirvana to regard the library source as a new source, rather than the existing one. In my opinion, this can only be a bug in how Audivarna identifies and tracks music sources. The problem returned several times despite new versions of the software. At the moment, my library is not duplicated. But I shall report again, when I have a new DSM update on my NAS.
…Yeah, my tracks are also get duplicated constantly, files keep disappear from manual playlists… Spent eternity to create all of them for the 1st time, then deleted that database thing from macOS and from Windows (Bootcamp) where I used to have a trial version… then spent another eternity to create all those playlists again. Exporting playlists didn't work - when imported they were empty

Still plenty of duplicated files within smart playlists and disappeared files in manual playlists.
All my files are located on BOOTCAMP drive on MacBook Pro, but I use Audirvana on macOS. Audirvana seems to see all of the music on Bootcamp, but maybe that is still something not very normal and confuses Audirvana somehow? Maybe it's worth transferring all music files to MacOS-location? Or maybe it's something that still has to be fixed in Audirvana itself?
Also, I have some issues with A+ Remote on iPad… connection issues - i have to 'wake up' MBP in order for A+ app to connect even though the music keeps playing. Also it displays the wrong album cover - the one that has been previously played.
Thanks in advance for any input!
Hey, guys!
As for this part, if someone is facing same issues and looking for solution.
I actually sacrificed my Windows partition on MacBook Pro and transferred all my music files to MacOs partition. (I then created another Windows partition, but smaller one, as currently I'm using this MBP only for music).
Obviously, I had to delete AudirvanaPlusDatabaseV2.sqlite flie from the library and re-create all playlists again.
So far it's working perfectly, no duplicated files, no disappearing files from the playlists of any kind. Audirvana now syncs in real time.
I think Audirvana somehow creates/reads a 'real' path and sort of 'relative' path through macOS to those tracks and although they were located in the same location, tracks sometimes appeared twice on the playlist/in the library or just disappeared from playlists.
Cheers!
Hello,
I used to have the same problem several times. All albums tracks were duplicated.
Solve the problem with clearing the folders for synchronisation:
Preferences / Library (versions 3.x.x)
Then deleting all the folders from the window (1st method: adding folders to synchronize). I don't use synchronisation with iTunes.
So this helped me.
Cheers!
My Audirvana Library is a complete mess.
I have 4611 albums on my external hard drive, the drive is connected to Mac ( High Sierra). Audirvana shows 5975 albums. It is because some albums are displayed twice but not as exact copies.
for example, Ash Walker album displayed twice ( I have one copy on a hard drive)

when I click the first album icon 3 random tracks are available

… and a complete album under the second album icon

I can't delete the incomplete album

other albums have a different pattern; it can be any number of random songs and second album icon is a full album
I also have some albums randomly split into two
any ideas guys?
I have deleted the path in the library ( lost playlists etc) and started from scratch…
it's ok now
from now I also add new music to the hard drive when Audirvana is off
fingers crossed